Regular price
Sale price
QAR 135.00
Unit price
per
Sale
Sold out
Fellow Atmos Coffee Canisters will keep your roasted coffee stored fresh for longer, airtight. It achieves this by removing oxygen from the Atmos Coffee Canister. Protecting your fresh coffee beans from moisture and odours whilst delaying the staling and ageing in the process. You don't need to place them in the fridge again.

Roasted coffee beans effectively have a shelf life once roasted. Through the staling process you begin to notice the beans will first lose their natural fresh aromas followed closely by the sweetness and vibrancy of flavours associated with fresh beans.

The way in which the Fellow Atmos Coffee Canisters keeps airtight is through a unique integrated pump in the lid. This acts as a vacuum when you twist the lid on left and right. You'll notice the vacuum light indicator turns green and gets pulled down once you achieve a solid vacuum seal in the container. When you're ready to remove and use your beans, simply press down the airtight release button and hear the air get sucked back into the container.

The Silicone airtight seal stops anything from getting inside the container once sealed. 
Vessel Capacities : 280g
Diameter: 11cm
Height: 12cm
Weight: 326g
View full details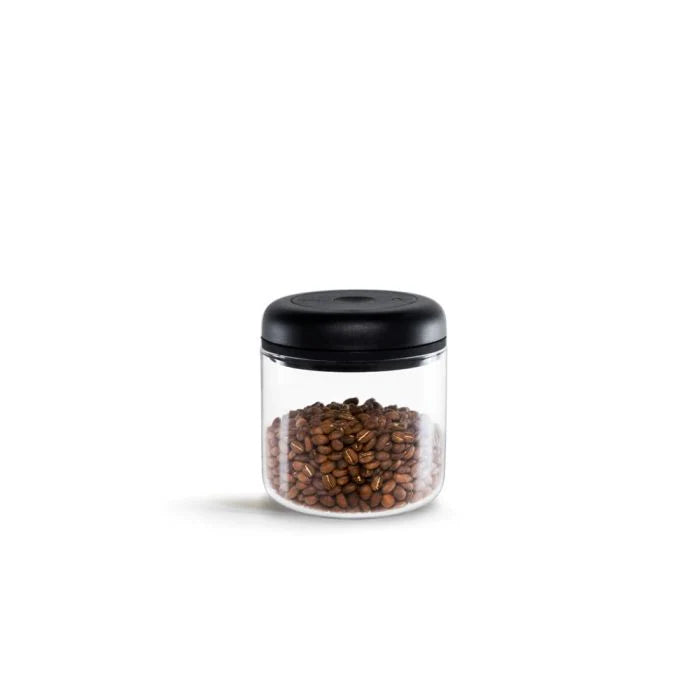 FELLOW ATMOS COFFEE CANISTER FEATURES
Airtight Container Storage – Feel assured the freshness and quality of your coffee will last for much longer.

Vacuum Light Indicator – Turn the lid back and forth to engage the pump. Removing air and locking your beans away. Watch for the green light indicator to know they're safe.

Easy-use Vacuum Discharge Button – Ready to brew again? Press down on the button in the middle of the lid, hisssss! The vacuum seal is released and your fresh beans await.

Airtight Silicone Seal – Prevents the ageing and oxidation process by removing all the elements that cause it, protecting against odours and sunlight too.